Fellowes is a global manufacturer of workspace solutions and a leader in the development of products that improve life at work, at home and on the go. With a family of brands that innovate across office technology and improving workspace environments, they are known as much by name as they are for quality. This comes across in the visuals they create and the demand for high-quality imagery from design to manufacturing and beyond, using KeyShot to make that a reality. We talk with Taiwon Choi, Industrial Design Manager at Fellowes, about how they approach a project and how KeyShot has helped.

Modeling software used: SolidWorks
Website: fellowes.com
What sparked your interest in product design and becoming an Industrial Designer?
As far as I can remember, I was fascinated by forms and the way mechanical components all work together. With a very wide gamut of interest combined with my black-holed-imagination, I spent a lot of time daydreaming of objects/solutions – in a way, sketching out what was only inside my head became second nature; this naturally led me down the path of an industrial designer.
I consider realistic renderings created with KeyShot as one of the most advanced and effective ways of getting our points across."
In many ways, industrial designers are similar to interpreters. In our case, we use the universal language of 'visual representation' that evokes ones emotion that leads to commercial production. There can be many different forms and levels of language we can opt for in this type of communication and I consider realistic renderings created with KeyShot as one of the most advanced and effective ways of getting our points across.
What's unique about the approach the Fellowes design team takes to project?
Fellowes, as a company, has a very wide range of products from cellphone accessories to consumer electronics, all the way up to commercial-grade machines. Each designer is required to be very efficient in 'shifting gears' as constant change of approach to design is inevitable. Although the majority of our designs are under the Fellowes' brand, the pedigree of each product is so far apart that it often calls for a very different approach to projects depending on the scope and nature of business.
For this reason, we spend a lot of time structuring the project/programs before we dive into the fun part of industrial design. Some projects demand a very robust framework while some solely rely on designer's instinctive reaction – All is treated equally important.
Lead designers for each project are also required to attend meetings throughout the development with marketing, product development, quality and supply chain team. This ensures that our input is carried through the finish line without compromising the design integrity, or we can use our capability to minimize the damage in the event of inevitable revisions.
"We strive to deliver designs that capture emotion"

At the end of the day, a design that doesn't get one's heart to beat becomes a very hard one to sell as it will solely rely on logic to determine whether to buy or don't buy. We strive to deliver designs that capture emotion, that encompass logic by default. We want our customer's heart to react before they read through the entire list of features & benefits.
What is the primary 3D modeling software at Fellowes?
At Fellowes, we use SolidWorks as default. We also use Rhino 3D for projects that require experimental and/or complex surfacing. Our China engineering team also uses SolidWorks so we prefer to release native SolidWorks files for improved back-and-forth modification.
Where in your process is KeyShot used?
We use KeyShot for final renderings upon 3D completion toward the back end of the design phase. However, we also use KeyShot to create a nice shaded underlay to sketch over during upfront concept development. KeyShot is also used to create commercial grade image assets for webpages, packaging, marketing material, and catalog.
What are some of the projects KeyShot has been used on?
This can be a very long list as all of our projects will go through KeyShot one way or another – multiple stages per project at times. I would just say our Mobile Accessories, Work Solutions, Air Treatment, Storage solution that consists of Fellowes, Bankers Box, Optrix, ExoLens, and AeraMax brands have all benefited from using KeyShot.
Specifically, one of our latest projects saw a great impact using KeyShot. When the ID team got the call to answer a potential partnership with ZEISS for a flagship mobile photography project, we were immediately challenged with capturing the multiple and subtle nuances of ZEISS' elegance and quality within a very tight timeline.
Before we got into the program, we created an excitement generator to align ourselves into a heart-pumping state. The image for this phase was generated using KeyShot – overall turnaround from a blank sheet of paper to 3D/rendering took less than a day.
Upon project approval and kick-off, we decided to bypass our conventional sketch phase as it would have been next to impossible to convey the subtlety of the lens let alone the build quality. Instead, we decided to jump into quick 3D development and used KeyShot to demonstrate our design intent based off of their existing lens lineup. With the help of KeyShot's capability, the photo-realistic concepts dramatically helped the team to nail the final concept without questions being raised – Capturing the quality of its optics was critical.
Throughout the process, the team incorporated ZEISS' input and guidelines into the design concept for the ExoLens with Optics by ZEISS. After getting ZEISS' approval which was based on their very own 'Otus' design language, the team created the range of lenses with the NPD team using Fellowes' ExoLens® bracket, a beautifully machined aluminum bracket that lives up to the iPhone:
We were so excited about this project throughout the entire development and anxiously waiting for these products to hit the market, starting in mid-June!
Overall, how has KeyShot helped save time, money and/or improve quality?
Our design process is very much integrated with 3D in so many projects. With KeyShot, we are able to bring the simulated end result of finish goods just by slightly extending our 3D phases. With this, we can guide the team with limited imagination to see our vision and expedite the decision making process without the cost of prototyping and the lead-time. The generated 3D render assets can be used for the back-end of product development (packaging, launch plan, etc.) while physical samples are being made – this dramatically reduces the sequential timeline of conventional development.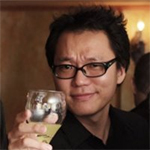 What advice would you give to others interested in doing what you do?
We all understand the tools are only as good as the person using it, and yes, KeyShot is no different from a tool standpoint – although it indeed is an almighty tool. My advice, to those who seek their career path as industrial designers, is to keep in mind that whatever you create all starts from your thought process. Tools are there to assist us in connecting the dots from its inception to a tangible concept. If you're asked to squeeze a brick, ask them what it is that they are trying to extract out of it – then rather spend your time studying the right object to squeeze. This is how creativity should start, not by being creative in squeezing out that brick. There is no right or wrong in design. There are only choices we make – Choices that we become responsible for.