Ganz Einfach GmbH is a European online retailer that delivers a range of consumer electronic brands for home, office and mobile use. We talk with 3D Artist Claudius Dreyer, learn about the demanding timeline for creating product visuals and how KeyShot makes it possible to deliver the product shots needed in the shortest amount of time.
Modeling software used: Maya, ZBrush
Website: ganzeinfach.de
What sparked your interest in design and becoming a 3D Artist?
When growing up, I loved painting and video games. It seemed entirely natural to combine these interests and apply at Games Academy in Berlin where I studied Game Art and Animation.
What's unique about the approach you take on a project?
I always try to keep a beginner's mind as long as possible. This lets me discover something new even when I have to model the 5th consecutive HDMI plug and still be open to different ideas. When detailing my models, I use ZBrush's Dynamesh system with boolean subtractions for shapes that would otherwise be very tedious to create. KeyShot allows me to instantly take the highpoly models from ZBrush and render them in the best possible quality without the need to ever retopologize or set up UVs. I can keep deadlines and focus on the artistic parts of modeling, shading and lighting, which is great!
What is your primary 3D modeling software?
Maya, since Maya 5, but whenever possible I send my meshes into ZBrush for refining.
Where in your process is KeyShot used?
Whenever I want to quickly check my models, I take them into KeyShot. I can immediately see the model's strength and weakness this way and always get a huge boost of motivation to finish out the project. KeyShot supports quick material and environment assignments and I often save these for use when the modeling is completed. Seeing the finished models in KeyShot with physically accurate materials and real-time ray tracing is the most rewarding part of my workflow. From the moment KeyShot is started until the final post processed image, I often get into a flow where I'm closely connected to the work and feel energized.
What are some projects you have used KeyShot on?
I use KeyShot on all projects; to communicate design changes to our suppliers, for patent drawings, exploded views and whenever I need perfectly polished product shots. Some of my favorite products are the Titanwolf Gauntlet Gaming Mouse and the retro white projection clock.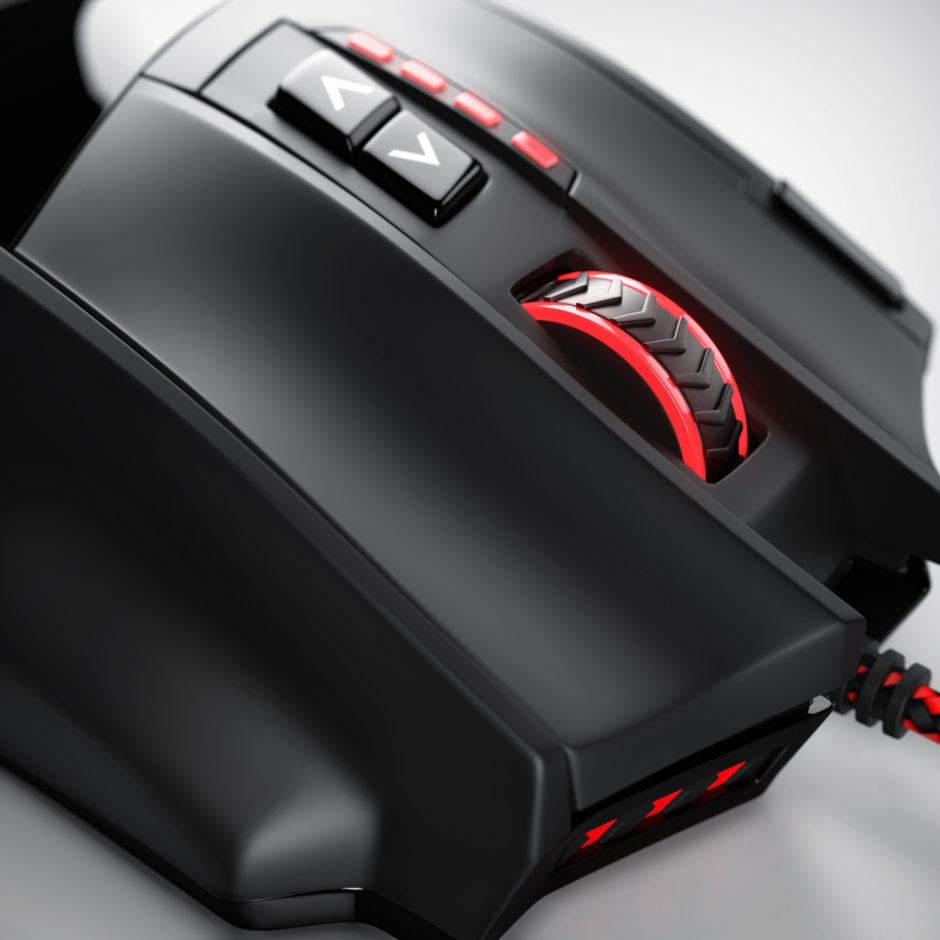 On an average day I'm expected to model, shade, light and post process five shots of one new product–It would be impossible to do without the use of KeyShot."
Overall, how has KeyShot helped save time, money and/or improve quality?
As an artist at Ganz Einfach GmbH, on an average day I'm expected to model, shade, light and post process five shots of one new product–It would be impossible to do without the use of KeyShot. With little time left, I can setup materials and lighting in five minutes with KeyShot and it looks great. Often, coworkers from other departments come to my desk with immediate feedback about the shot, and they're able to see the changes as I make them in real-time with KeyShot. I use their feedback to improve the materials, lighting or composition. Compared to traditional product photography, it's much quicker, more direct and a more interactive process for incorporating changes or creating color variations. Many products on which I used KeyShot have become bestsellers.
What advice would you give to others interested in doing what you do?
Never stop practicing and be open minded to criticism. View Claudius' Behance portfolio here.